For 40 years, Terry Thompson Chevrolet has provided the tire repair and maintenance Mobile, AL residents can count on. Our car dealership's service department comes equipped with a full staff of experienced repair technicians, the latest in mechanical supplies, and new tires for your vehicle.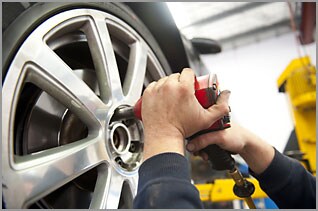 If your car isn't driving as smoothly or as quietly as usual, you may need to repair or replace your vehicle's tires. A set of solid tires is essential for vehicle control. From accelerating and braking to turning and handling, a car's every movement places stress upon its tires. Even one punctured, deflated, or ill-performing tire can turn a routine drive into a brush with danger. This is why you should rotate and maintain your tires on a regular basis.
Our dedicated team of service technicians is here to help keep your tires in working order. When you bring your vehicle to our department for service, our staff will inspect, rotate, and replace your tires as needed. We understand that buying new tires is a big purchase, and we will do everything in our power to make sure you get the most out of your investment. In addition to scheduling an appointment at our dealership, you can also fill out an online form to order new car parts or submit questions directly to our technicians.
When your new or used car, truck, or SUV is in need of tire repair and maintenance, Mobile, AL area drivers can call our service department at (251) 626-0631. Customers can also schedule an auto service appointment by filling out our online form. Once we figure out your vehicle's most pressing needs, we can work with you to provide a cost and time estimate.