When it comes to finding the best full-size SUV, it's pretty hard to be the Chevy Tahoe. With seating for up to 8, an easy to use infotainment system, and a luxurious cabin, it's easy to see why so many people are choosing the Tahoe. And, it's even been named the "Most Dependable Large SUV" year after year.
See if the Chevrolet Tahoe is right for you and your family, then shop SUVs for sale in Daphne at Terry Thompson Chevrolet!
Is the Tahoe SUV a Good Value?
The Tahoe SUV is an excellent value when it comes to finding a large SUV. With its spacious interior, quiet cabin, superior cargo room, and intuitive infotainment system, it provides drivers in Daphne with an incredible value. It's the perfect family vehicle for long-road trips and carpools, as you'll be able to fit all of your camping gear or sporting equipment even when all of the seats are up. Plus, as one of the more fuel efficient SUVs on the market, you'll be able to fuel up, less.
Power & Engine Options of the Chevy Tahoe

The Tahoe delivers exceptional full-size hauling power thanks to two capable engine options. The Tahoe's standard 5.3-liter V8 engine and six-speed automatic transmission offer incredible power, even when full loaded with passengers and cargo. Plus, it offers best-in-class V8 fuel economy of 23 MPG on the highway.
If you require even more punch, you'll have the option to upgrade to a 6.2-liter V8 that's paired with a 10-speed automatic transmission. When properly equipped, the  Chevrolet Tahoe can tow up to 8,600 pounds -- more than most competitors can handle. Really, you can't go wrong with either engine option.
The Chevy Tahoe: Rear Seat Entertainment and Technology

Are you sick of hearing "are we there, yet?" The Tahoe offers plenty of entertainment and technology options to keep backseat passengers engaged for even the longest rides. With the available Rear-Seat Entertainment System, you can pop in movies thanks to the Blu-ray DVD player and keep everyone occupied. Plus, with available Wi-Fi, you can connect up to 7 devices, so the entire family can stay connected while on the go. 
The other standout technology feature is the intuitive infotainment system. Hook up your phone with Apple CarPlay or Android Auto and access music, your calendar, get directions, call friends, and more.
Safety Features of the Chevy Tahoe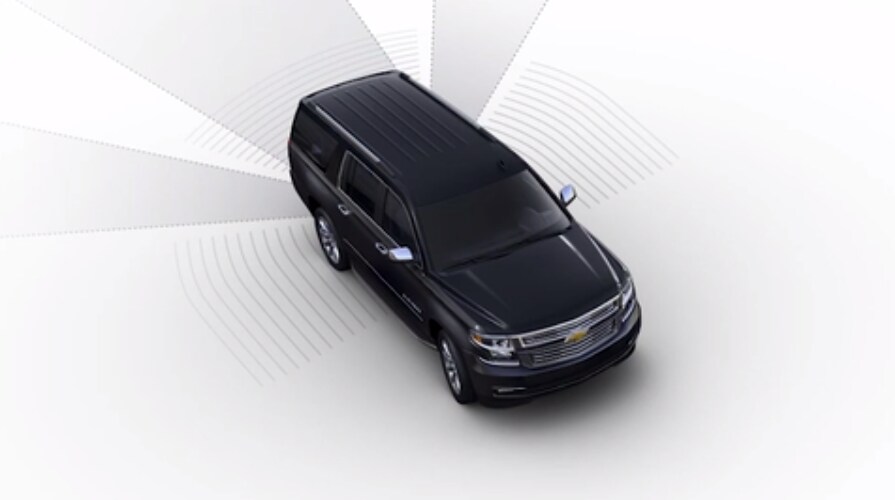 We know that keeping your family safe is a priority. Fortunately, the Chevy Tahoe has a number of different safety features that are designed to prevent a collision and keep your family safe while on the road. Some of the available safety features include automatic forward braking, forward collision alert, lane keep assist, rear cross traffic alert, and adaptive cruise control. We love that the Tahoe works in conjunction with the advanced safety system and will actually vibrate to alert the driver when a possible collision is detected.
Shop the Tahoe SUV for Sale in Daphne at Terry Thompson Chevrolet
The Tahoe is safe, reliable, and jam-packed with available technology features, making it a smart choice for Daphne drivers. If you are looking to shop Tahoe SUVs in Daphne, visit Terry Thompson Chevrolet! Our Chevy dealership offers the largest inventory of full-size SUVs and prices that can't be beat. Browse our inventory of new 2018 Tahoe SUVs, then visit our dealership for a test drive! We are conveniently located to Mobile and Foley, Alabama, as well as Pensacola, Florida. Find directions to our dealership, here.